Business Advisory Services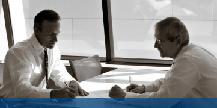 How does your business rate in the 11 key areas of business?
Where do you stand against the top 20% in your industry?
How well are you positioned to compete against them and survive?
Business owners who meet with us for a confidential business advisory session develop strategies to close the gap and move on to grow successful companies. Companies which are selected to participate in the Business Support Program have received assistance in the following areas:
Working on their business rather than in the business
Obtaining public or private funding and grants
Competitive intelligence
Increasing sales and profits
Anything to do with management
Building a wining team
Business Audit
Review or creation of Policies and Procedures, Marketing, Sales, Staffing, Financial and other Plans
Documenting, "Renovating" and Automating Business Processes
Reducing debt
Developing exit or executive transition strategies
Developing new markets locally and internationally
Financial management
Government rules and regulations
Government contracting
Improving operational efficiencies
Developing Joint ventures
Living a quality life with lots of time to have fun
Franchising the business
Sourcing
Purchasing another business
Technology management
Whatever you may have on your mind, as the owner of your business
In every case, if qualified, we will make best effort to nominate the business for IIB's Business Support Program (BSP). If approved for BSP, with over 4500 executive under the program you will have all the various experts needed coming in to help – 'hands on' -with your business just as if you were the chairperson of a large multi-billion turnover company with a full board of senior directors who you can call on for advice or talk things over with as you make your decisions and as you need projects undertaken.
To find out if you qualify for the Business Supprt Program (BSP) call 301-706-2945 or e-mail us today.