In the news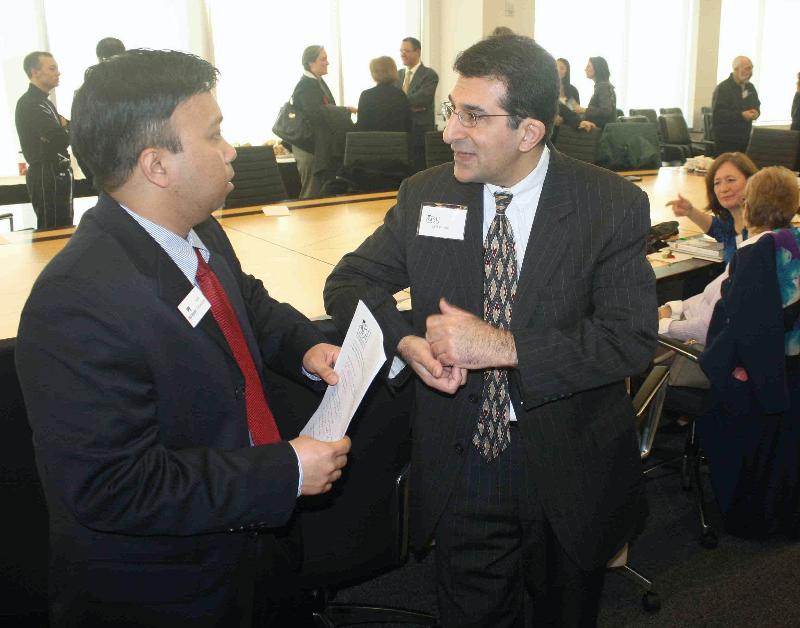 Michael Akbar (right) of Syntony Business Advisors, talks with fellow founder of Small Business University, Ron Dimaranan, MAFCU's Director of Business Development at this month's launch of Small Business University.
Mid-Atlantic Federal Credit Union (MAFCU) is pleased to announce the launch of Small Business University, a joint initiative with Syntony Business Advisors, offering a series of free seminars throughout 2010 designed to assist local small businesses and entrepreneurs.
The yearlong course schedule and dedicated website were unveiled at a January 14 event held at the law firm of Shulman Rogers in Potomac.
This non-accredited monthly seminar series will discuss topics relevant to small and mid-sized businesses, including: Technology for Small Businesses, Brand Development, How to Apply for a Business Loan, Doing Business With the Federal Government, Public Relations Strategies for Small Businesses, and more. For a complete listing and to sign up for regular newsletters and invitations to events, go to www.smallbissuniversity.com.
MAFCU offered several similar free seminars to businesses last year. The success of that series, which regularly drew dozens of local entrepreneurs, led to the creation of Small Business University.
"It was so clear that there was a need and a hunger for entrepreneurs and small business leaders to gather together, to learn, to discuss, and to compare notes," says Ron Dimaranan, Director of Business Development. "It's more than a free seminar. It's about creating an educational and business network for those people who are often out there on their own, taking their own risks to help create the backbone of the American economy."
Small Business University seminars will be held in three locations: MAFCU's Germantown headquarters at 12820 Wisteria Drive; at its newest location in Bethesda at 4831 Cordell Avenue; and at the law offices of Shulman, Rogers, Gandal, Pordy & Ecker, P.A. in Potomac at 12505 Park Potomac Avenue.
Call 301-706-2945 or e-mail us today to start receiving updates on Small Business University.